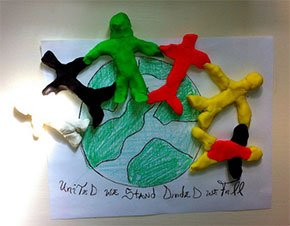 On March 30, 2012, we had the honor of presenting a workshop at the Unity Leadership Conference at the Suffolk Y Jewish Community Center. We spent two hours with a group of local high school students chosen to participate in a conference designed to expand their world view and enable them to make thoughtful life choices. We presented the concepts that give life to our work at WBLL: development of beloved community, solving problems at the local level, unlocking the healer, artist and teacher within, and helping to build structures in society based on love and peace.
The students were deeply engaged and we had a great discussion before we moved on to the creative leadership project. We invited the students to work, individually or in teams, to create a visual image that represents how they wish to lead in creating a vision of a better world.
The art pieces and the students' explanations were deeply inspiring. We look forward to working further with this great organization.