By Staff on October 13, 2013 in
Events
Music, dancing, raffles, dinner and fun at Serata's in Long Beach, for the benefit of WBLL and local businesses hard hit by Superstorm Sandy.
Sandra Perez, a happy raffle winner displays "A Vibrant South Shore Sunrise," donated by Nora Milligan, local Patchogue artist.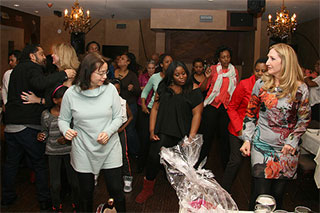 Participants had a great time dancing at Serata's while supporting What BETTER Looks Like.
Great raffle prizes were donated by local businesses in support of the work of What BETTER Looks Like.
Marie Ukeye of What BETTER Looks Like talks about young Rwandan adults living in poverty who now have a chance to attend college through the generosity of supporters.